Bodyguard Job
The person who holds a bodyguard job is a highly trained professional who offers their clients protection from physical injury, kidnapping of their person or family member, death, assault, harassment (physical or mental), stalking, and even embarrassment. The typical clientele are politicians, celebrities, important government big wigs, and wealthy families. CEO's and other important business people have also been known to hire a bodyguard.
A professional bodyguard offers their clients peace of mind and continual, exclusive support. Most people think a bodyguard job is a glamorous, action packed job. It can be at times. However, it is more often times mundane. Some bodyguards may have to carry machine guns, or drive evasively in fortified cars to fend off the bad guy, it's not the normal everyday thing. The person in the bodyguard job instead, are keen observers of security issues. They must have excellent hearing, vision, and reflexes. They are usually strong and physically fit. Men and women both can hold a bodyguard job. Bodyguards assess threats and deal with them as necessary. It means watching, listening, route planning, car and or person searches, or just being a visually intimidating and strong physical presence.
Are you able to handle a bodyguard job? In order to be successful you must have the following skills and attributes:
Possess initiative and have the ability to work as part of a team
Be physically fit, You have to be able engage in a physical fit or even run after someone.
Have good observation skills, This might be the most important. If you can see danger you can AVOID it.
Must be able to maintain client confidentiality, Can you keep details and secrets to yourself?
Has to remain calm under pressure, A calm person is an effective thinker, is observant, and quick to act.
Interpersonal skills are also important
Must have good planning skills, Can you look at a map and pick the safest route? Where should you walk?
A bodyguard must be flexible as well. The person who holds a bodyguard job must also be willing to be a personal assistant, a driver, or just a confidant. The job is to make the client happy and to keep them safe. This might mean waiting in or by the car for several hours, standing quietly by their side, and maybe even carrying around their shopping bags. Bodyguards have to be highly trained. Law enforcement and the military provide the private sector with retired professionals with a similar mindset. These professionals are perfect for the bodyguard job. Some bodyguards carry a weapon, while some are trained in martial arts or other hand to hand techniques. The more training and experience a bodyguard has the better.

It is important to have the most up to date training. It affects your safety, the clients safety, and your rate of pay. The average pay for a bodyguard job is $55,000 per year. Some bodyguard jobs pay $180,000 per year or even more. The rate of pay takes into consideration many factors. Location of the job, experience of the bodyguard, training that the bodyguard has taken, job description, and any danger involved are the biggest factors in determining pay for the bodyguard job. The bodyguard job can you all over the world and put you in some possibly dangerous situations. It is not a job that just anyone can handle.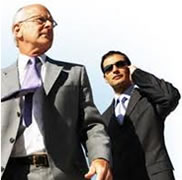 Sponsored Links:
Bodyguard Jobs: